The church was built as Pollokshields Established Church by Robert Baldie in 1877-1878. The architecture is mixed Gothic with an early English tower with tabernacles above the broaches of the spire at the southwest comer of the building. The tower has a clock face on each of its four sides.
The south (entrance) front has a large geometrical window above a row of trefoil headed windows with stiff leaf capitals.
The side aisles have twin lancet windows beneath the clerestory of triple lancet windows to the main church.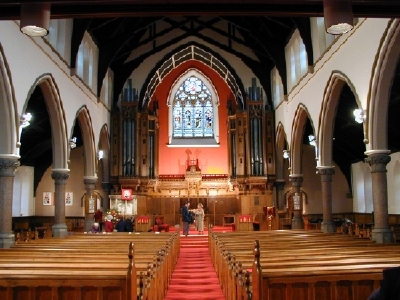 The interior has aisle arcades formed by polished granite columns on high octagonal sandstone bases with French Gothic capitals supporting pointed arches beneath the clerestory windows and the high scissor braced roof trusses. Each column cap is different The timber roof of the side aisles and the main trusses add to the grandeur of the interior. The south balcony is reached by a staircase from the east porch. The deep chancel was remodelled in 1912-1914 with new organ, pulpit and communion table.