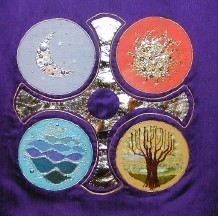 There are two pulpit falls - the Tree of Life and the Gold Cross with four circles - which were gifted by the children of the church to the rededicated sanctuary which have a close relationship with the four collage panels. These contain the same symbols of Sun, Moon, Earth and Sea and are a visual link to the Word with their message. These were also executed by Sally Moody Harkness.
There are three new suites of pulpit falls designed and executed by a group of ladies of the congregation.
Green Fall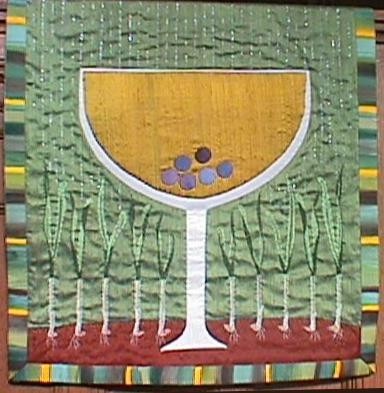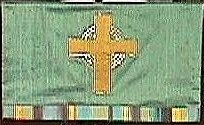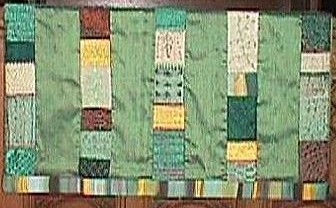 This fall is used between Epiphany and Lent and represents re-commitment and growth in Christ. The grapes for Communion wine are in the cup and the wheat to make the bread are growing below. The elements necessary for growth are shown by the golden sun in the cup, the silver rain and the brown earth.
The Flower Committee financed the making of this fall.
Red Fall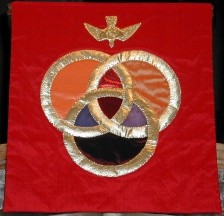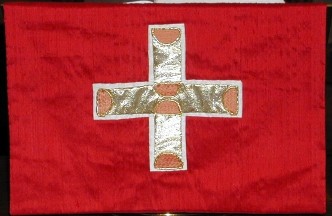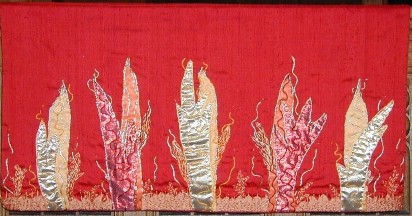 This fall is used during Trinity and represents the fire and power of the Holy Spirit. The interwoven gold rings are for Father, Son and Holy Spirit and the dove above also represents the Holy Spirit. The Taxila Cross on the Communion Table is the symbol of the Church of Pakistan.
This fall is dedicated to the memory of Rev. Emanuel Johnson.
White Fall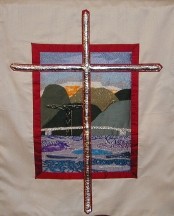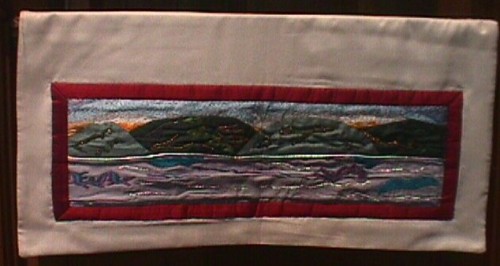 This fall is used for the Sacraments. It represents the city of St. Kentigen. The Kingston Bridge spanning the river Clyde is symbolic of the modem City of Glasgow. The Cross overall symbolising the City's motto of 'Let Glasgow Flourish by the preaching of His word and the praising of His name'
Presented to Pollokshields Church in memory of the Rev. William Howard - Ellis.